BR-12
At its sensational appearance in 2010, 
Oyaide "MJ-12" aluminum turntable sheet attracted audiophile's attention by its beautiful figure. 
Then they have started to produce its option item which enhances the performance of MJ-12,
that was the butyl rubber 1mm thin turntable sheet,  BR-ONE.
Now Oyaide had done many butyl rubber compound test 
and they found , to enhance BR-ONE's vibration suppresion
, tungsten is the material that can improve sound quality.
They also found that MJ-12's tapered shape and tuning hole layout pattern on it is also effective with rubber material.
With these findings taken into design, 
Oyaide has developed new turntable sheet , BR-12.
BR-12 is a vibration-damping butyl rubber sheet 
that takes its tapered shape and tuning hole layout after MJ-12, Pyaide's aluminum turntable sheet.
With high-friction butyl rubber it has great grip and great contact to vynl disc to avoid slip 
even when its used with high pressure stylus.
From center to perimeter, it has a taper of 1.0 degree elevated angle.
It will correct vynl disc's warpage by the rubber sheet tightly sticking to it.
Then stylus movement will get stable to trace the groove.
The tapered sheet has 18 tuning holes, it contributes more to improve sound quality.
The holes work also as finger rest when removing 10inch or EP discs.
Its diameter has been made 294mm to make it easy to remove LP disc(300mm).
Thickness is made 5mm , same as to most of the turntable matts that come with record players,
it does not require height adjustment of tone arm when you replace it.
Overhang gauge comes with PP coated paper stroboscope and help you to adjust your record player.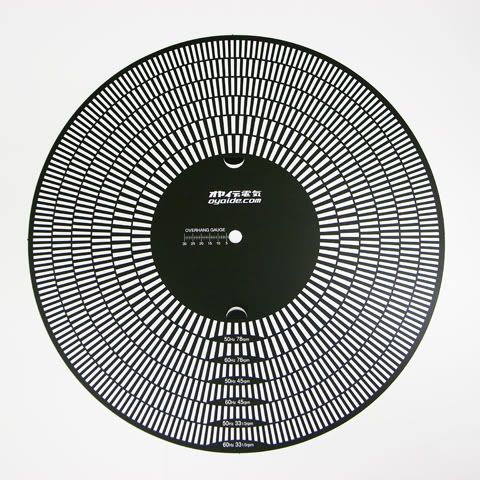 Precautions for use

- There could be color irregularity or abrasions on the surface made on manufacturing stage 
  but it is the property of the butyl rubber and does not affect any performance.
- When it gets dirty, washed with water and wipe moisture with a soft cloth.
- Do not wipe using oil, organic solvent, or alcohol as there is a risk to deteriorate the rubber.
- Stroboscope and overhang gauge is printed on  mount of the package, not on the body BR-12 itself. 
- To use the stroboscope, fluorescent lights(non-inverter type), strobe light organ is recommended accoringly.
- For proper value of overhang gauge, please refer to the manual of your record player, the tone arm.